Crossbody Light Brown, Blue Leather Bag
$452.00
This Crossbody Fish Leather Bag is Unique, Exclusive, and Handmade.
It is a luxurious, one-of-a-kind handbag, tailored with selected Gold & Navy-Blue Fish Leather and enriched with Brown Leather Accents. It has lots of different compartments to keep your purse organized. Made in the USA.
Front – Gold & navy-blue fish leather with brown leather accents– color shades may vary.
Back – Brown leather with a navy-blue zipper pocket
Convertible and adjustable brown leather straps
Top navy-blue zip closure for an extra charm
1 Back exterior blue zip pocket
1 interior navy-blue zip pocket enhanced with brown leather around it
1 interior brown leather slip pocket for your cell phone
1 interior brown leather slip pocket for your lipsticks
Gold-tone hardware
Lining: Fabric
Handmade in USA
Size:
8.5" W x 8' H x 2.5" D
19.5" L to 21' L Strap
Description
Crossbody Leather Bag
Marli Purses is a pioneer in creating unique, exclusive, and gorgeous handbags by utilizing FISH LEATHER, which otherwise would be discarded in land fields.
Marli Purses, Fish Leather Handbags, are handmade in the USA.
A Woman's Innovation!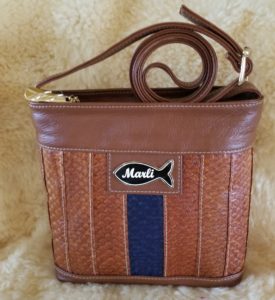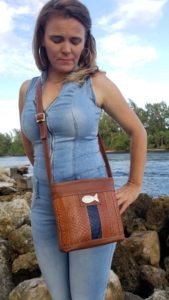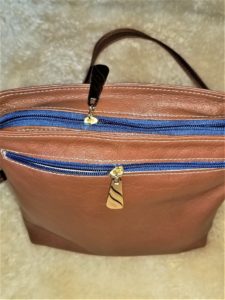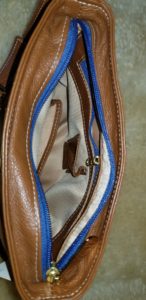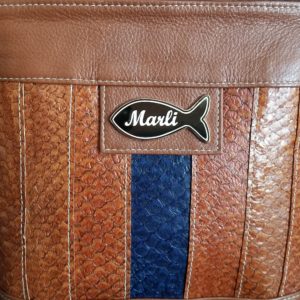 Only logged in customers who have purchased this product may leave a review.